Over a year has passed since AWS CDK went GA and it has now grown into a family of products:
A small group of community members from across the globe thought this was something worth celebrating so we are going to take one day and showcase the brightest and best of cdk from across the whole product family. Let's talk serverless, kubernetes and multi cloud all in the same day!
During the day we plan to mix introduction talks with hands on builders sessions so that everyone can leave having learned something new.
Where Can I Watch CDK Day?
CDK Day 2020 has been and gone but do not worry we have collected all of the talks together in a rewind page for you to enjoy or here is the full video:
Stay Informed For 2021
You can still follow @cdkday on Twitter for the latest news
Ongoing Discussions
Want to talk about CDK, then join the cdk.dev slack space
Meet Stacks aka Pancakes
We are very excited to have an official CDK Day mascot, an Otter so obessed with stacks they only eat food that comes in stack form. Their official name is Stacks but all their friends call them Pancakes (and everyone is their friend).
Where did Pancakes come from? Well we started with several votes on which animal to choose followed by a vote on the name which came together as the below image with Matthew Dorrian and Clea Allen in this tweet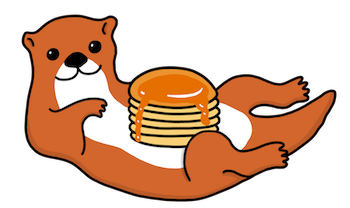 Speakers
We are delighted to have a global group of speakers covering topics across AWS CDK, CDK8s and CDK for Terraform.
Agenda for 30th September 2020
We have a combination of Lighting Sessions (up to 10 mins) and Full Sessions (20-25 mins), click one below to see more details. Note the below plugin attempts to display in your local timezone. If you want to see the start time in other timezones you can do it here
Our Code of Conduct
The CDK Day Conference is a community event intended to provide learning opportunities for all users of the CDK and related libraries.
We value the participation of each and every member and want all attendees to have an enjoyable and fulfilling experience. Accordingly, all attendees are expected to show respect and courtesy to other attendees throughout the event and on related community forums.
To make clear what is expected, all attendees, speakers, organizers, and volunteers are required to conform to our Code of Conduct.
No Official Sponsors
This is a free event for everyone so we didn't need to raise any funds to throw it but we do have supporting groups
The Organising Committee
The group who came together to make this happen are from all across the globe and work for several different companies